Okay, we've gone over most everything you will need for your new puppy. I'm now going to find supplies that are good quality and good price. You can buy everything you need from my site, except maybe the food. I can probably get that to, if you let me know in the comments what kind you need. Let's say we start with the bed and crate. This is a great way to potty train
puppy. We'll get into that later.
When you go to buy your pet's crate, don't think of it as a cage. This should be to train your puppy and keep him out of mischief while your gone. This is his home within a home.
They come in all sizes and different materials. Decide whether you want metal, plastic or wood. The wood looks like a piece of furniture. If your going to buy a small one and you are going to have a big dog then you're going to have to buy another one. They make the big ones with dividers so they can grow with puppy. You can also put a pillow in one side so they'll have something soft to lay on. This is the beginning of your "Pampered Pooch".
Plastic Crates…
Plastic dog crates are generally made of a durable poly-blend with a chrome-plated steel bar door. Features include ventilated side panels and a leak-proof bottom. These are great for privacy and for airline travel. You can put these in the back seat for trips to the vet.
Wire dog crates provide maximum security, ventilation and portability. Buy the one that folds down so it's easy to store. These crates are also easy to clean because of the maximized open space. These are great for potty training.
Wood crates look just like a piece of furniture. They are very expensive and only fit certain types of dogs. You can't take them outside and they are hard to clean.
Remember the crate needs to be big enough for your dog to stand up and lay down. It needs to have a door big enough for them to walk through. Calculate your dogs size and weight. Is it going to be a big strong dog, you need a heavier crate. Wire crates come in many sizes and prices to fit your budget.
Do you want a plastic crate or metal. Wire crates are more sturdy than plastic. They also don't hold onto odors like plastic. You can't use plastic crates to train your puppy. Plastic crates are fine for traveling. Put him in so he can't see your taking him to the vet!
If you get a small dog a crate that's too big, they will do their business at one end and take a nap at the other. This will be a nightmare when you try to potty train them. Wire crates can be cold for your little one so give them a bed and some covers.
This will make them comfy.
"Dog Breeds by Size and Their Corresponding
Dog
Crate Sizes
Remember that this is just a guide; your dog might be between sizes so always measure carefully and find a suitable crate so he's comfortable.
Dog Size
Dog Breeds
Dog Crate Size
Miniature pooch – under

25 lb.

Chihuahua, Cairn Terrier, Dachshund, Norwich Terrier, Yorkshire Terrier, Jack Russell Terrier, Norfolk Terrier, Pug, Toy Fox Terrier, Boston Terrier and Shih Tzu.

18" to 25"

(measure your dog)
Small n' cute dogs –

35 lb to 40 lb

max.
Pit Bull Terrier, Scottish Terrier, Cocker Spaniel, West Highland White Terrier, Springer Spaniel, Chinese Shar-Pei, Fox Terrier, Silky Terrier, Australian Terrier and Brittany Spaniel.

30" to 36"

(measure your dog)
Mid-size dogs with huge hearts – up to

80 lb.

Airedale Terrier, Border Collie, Dalmatian, Golden Retriever, Labrador Retriever, Bull Terrier and a small to mid-sized Sarplaninac Dog.

36" to 45"

(measure your dog)
Isn't he a big boy? – up to

100 lb.

German Shepherd, Newfoundland, Bloodhound, Grey Hound, Irish Setter and Akita.
50" to 59" (measure your dog)
Why have you got that horse on a dog lead? – 100lb and beyond.
Great Dane, Irish Wolfhound, Bernese Mountain Dog, Siberian Husky, Mastiff, St Bernard and Scottish Deerhound.
Up to 60" (measure your dog)
Dog Crates Sizes Chart
These are the general dog crate sizes you can find online, although there's no standard size across all manufacturers so check the dimensions of each crate you consider buying.
Small Crates – 24 inches long.
Medium Crates – 36 inches long.
Large Crates – 42 inches long.
Extra Large Crates – up to 60 inches long and usually made of super strength wire." — https://www.certapet.com/dog-crate-sizes/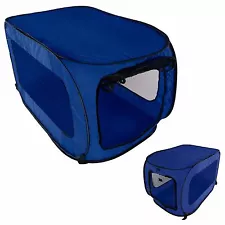 For the massive, backyard sized dog crates you'll need to find a specialist who supplies them and can help you construct them correctly.
Buying the rite crate makes your puppy and grown dog happy with his home inside a home. He'll use this as a place to chill long after the potty training. If you take care of the crate it will last a lifetime. Pay a few bucks up front to get it to last.
You can get a pet bed designed for crates, carriers, and other pet homes. They are made of a soft fleece cover and comfortable polyester cushion. There is a comfortable rim for pets to rest their head on. They're machine washable.
Remember, going to local stores is fine to check out the sizes. If you wait and look online you can read the reviews of what you want to by. These are great to make sure the crate is what you really want. Just remember to get a height and weight for puppy when he's grown so you don't have to purchase another one. Happy Crating.
Please leave comments: Sandra@pamperedpoochpetsalon.com
Please follow and like us: